OUR DAYCARE PROGRAM IS CURRENTLY AT CAPACITY, AND WE ARE UNABLE TO ENROLL ANY NEW DOGS AT THIS TIME.
We are not your average doggie daycare! Dogs are generally social beings and having a positive and safe environment for socialization was one of the core values that Bed & Bark was founded on.  When most people think of daycare they think of physical exercise and while this is an important part of your baby's health it is certainly not the only thing to consider. 
At Bed & Bark we have developed our methods around the physical, mental and emotional wellbeing of your dog.  Our daycare will not only provide your baby with physical exercise but also a healthy dose of mentally stimulating enrichment activities to keep them curious and engaged.  With Certified Professional Dogs Trainers (CPDT-KA) on staff we are able to work with your dog's using a science based positive reinforcement approach that keeps them happy and feeling good about themselves!  Come give us a try and see what all of the barking, or lack thereof, is about!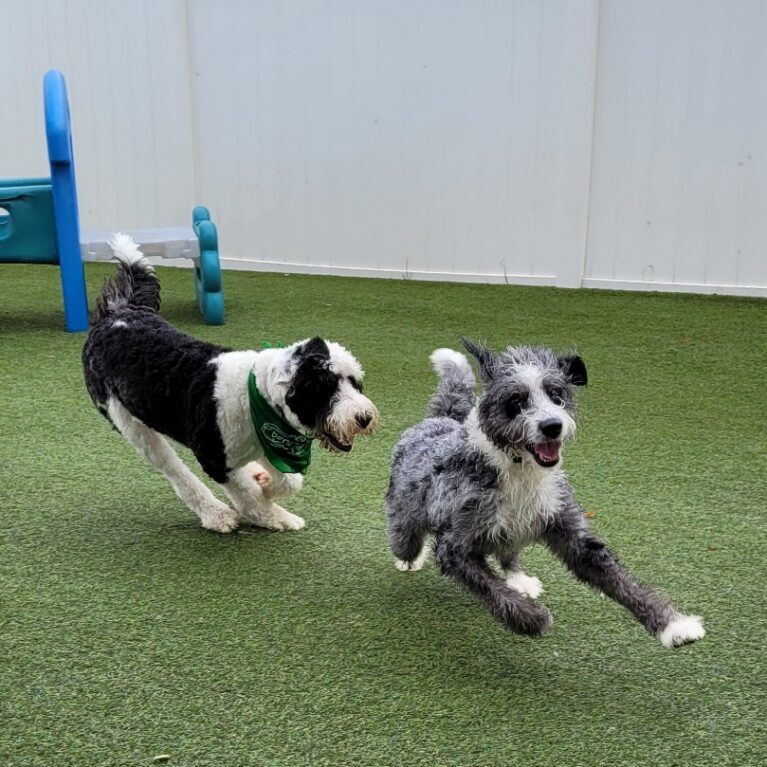 The most obvious benefit of any daycare is the physical exercise that your doggo receives.  Dogs, especially younger ones, have an awful lot of energy that needs to be managed properly to avoid unwanted behaviors like destroying your house!  Our daycare allows them to run around, make friends, and most importantly, be a dog!  In our facility they are monitored at all times while playing and should a playground injury arise we always consult the medical team at VCH!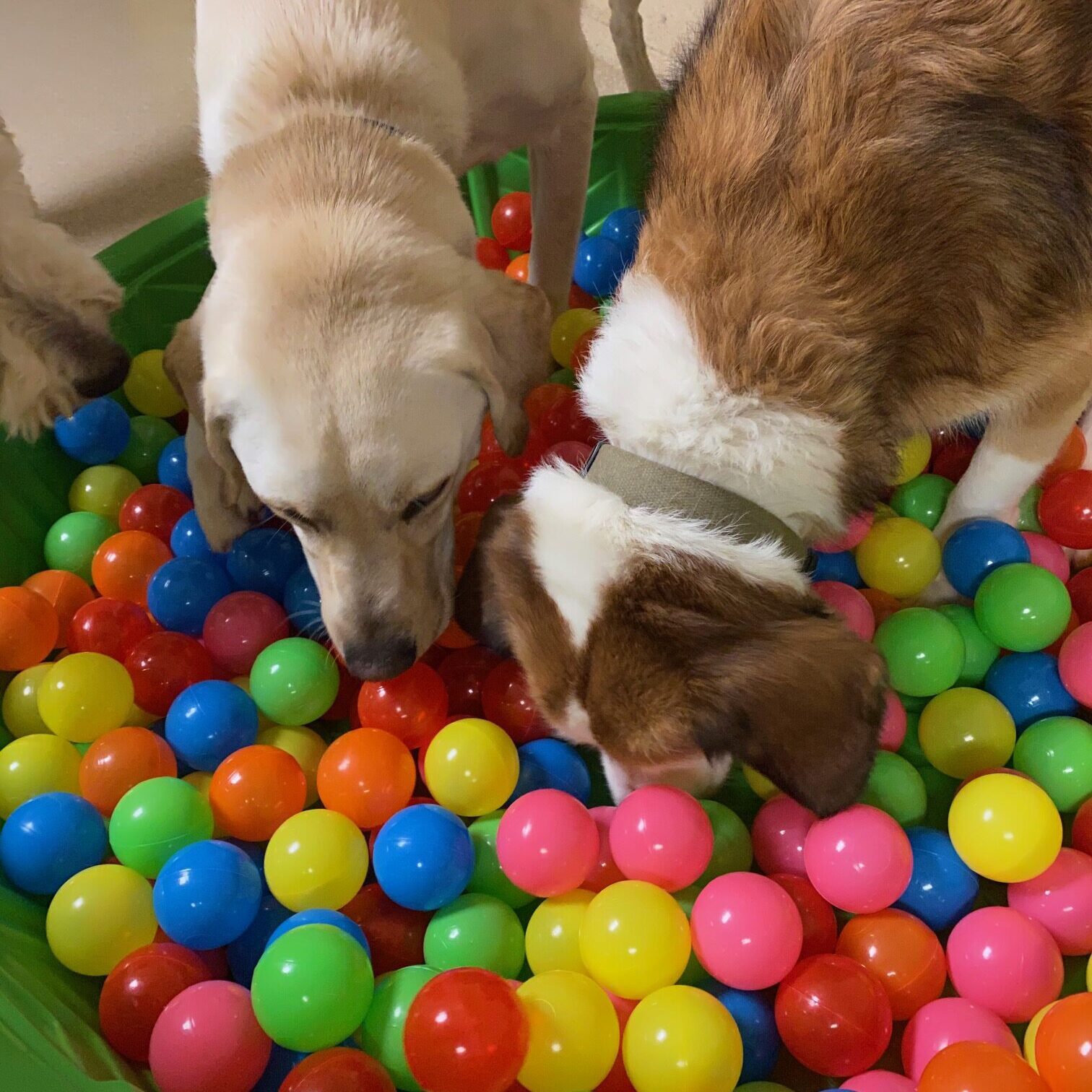 Where we start to differentiate ourselves is with our enrichment program!   We incorporate a variety of different activities into our daycare such as scent work, stability work, puzzle games and much more.  Enrichment does not have to be complicated to be effective.  One of our daycare dogs' favorite enrichment activities is shredding cardboard boxes!  These fun activities help break up the monotony for your dogs, and allows them to utilize some of their energy using their brain!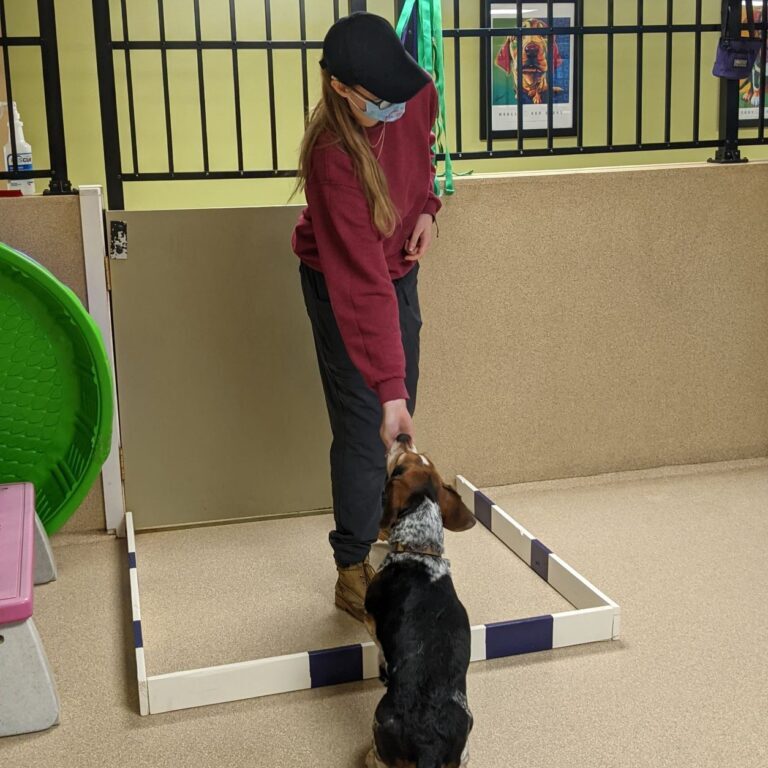 How do daycare facilities control a group of dogs playing?  Do they yell at them when they misbehave?  Do they blow a whistle or an air horn to break up a fight?  Do they squirt them with water or vinegar to dissuade unwanted behaviors?  Sadly a lot of other daycare and boarding facilities use some or all of these methods as a means of control.  We are proud to say we use food, love and praise in order to establish close bonds with the dogs that sometimes leave their owners feeling a bit jealous!  That is what being a force free positive reinforcement-based facility is all about 
Health Requirements for Daycare
All dogs wishing to attend Bed & Bark must  show current proof of the following vaccines, tests & monthly preventatives:  
Rabies  
DHPP (Distemper, Hepatitis, Parvo, Parainfluenza)  
Leptospirosis  
Bordetella (kennel cough)  
Canine Influenza  
Negative fecal sample every 6 months  
Negative Heartworm/Tick Test (1 year old & up)
Heartworm/Flea/Tick Preventative   
PLEASE CHECK YOUR PETS RECORDS TO ENSURE THEY ARE UP TO DATE PRIOR TO CHECK IN.  IDEALLY VACCINES SHOULD BE GIVEN AT LEAST 5 DAYS PRIOR TO CHECK IN TO ESNURE FULL IMMUNITY.  ANY PET THAT IS NOT UP TO DATE PRIOR TO CHECK IN MAY NOT ABLE ENTER OUR FACILITY OR MAY BE SUBJECT TO AN $65 URGENT CARE EXAM TO UPDATE THE VACCINES.  
FOLLOW BED & BARK ON SOCIAL MEDIA