Bed and Bark is Northeast Ohio's only positive reinforcement-based daycare, boarding and grooming facility!  We are committed to ensuring your pets have a safe, fun, and healthy place to enjoy while you are away.  By providing a combination of physical exercise along with mental stimulation we have created an environment that any four-legged guest can enjoy.  Working in tandem with the staff at The Veterinary Center of Hudson we are able to verify that all guests are current on all vaccinations and preventatives, while also ensuring they have access to excellent medical care should the need arise.  Our knowledgeable and dedicated staff work tirelessly to provide an amazing experience for your fur babies whether they stay for a few hours, days or weeks.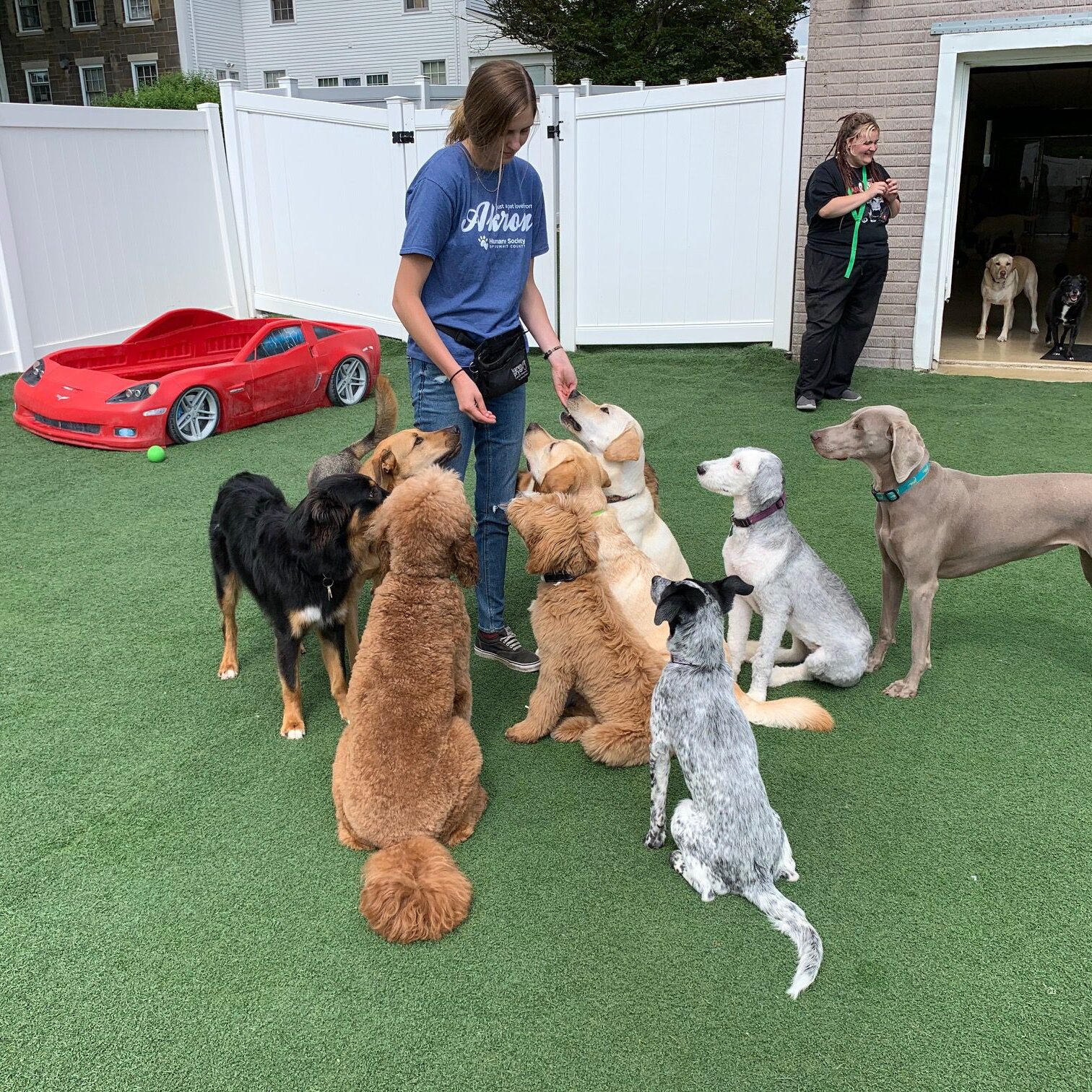 WHAT IS POSITIVE REINFORCEMENT?
When you were a child did your parents ever give you money or a gift for getting good grades?  If so, than they were using positive reinforcement!  Dogs don't care about money. They care about praise—and food or toys. Positive reinforcement training uses a reward for desired behaviors. Because, the reward makes them more likely to repeat the behavior, positive reinforcement is one of your most powerful tools for shaping or changing your dog's behavior long term.  This methodology is at the heart of everything we do at Bed & Bark.  We do not punish dogs by yelling.  We don't use noise makers such as air cans or whistles, and we certainly don't use force when handling them.  We use treats, praise and a whole lot of love to establish close bonds with your four legged family members.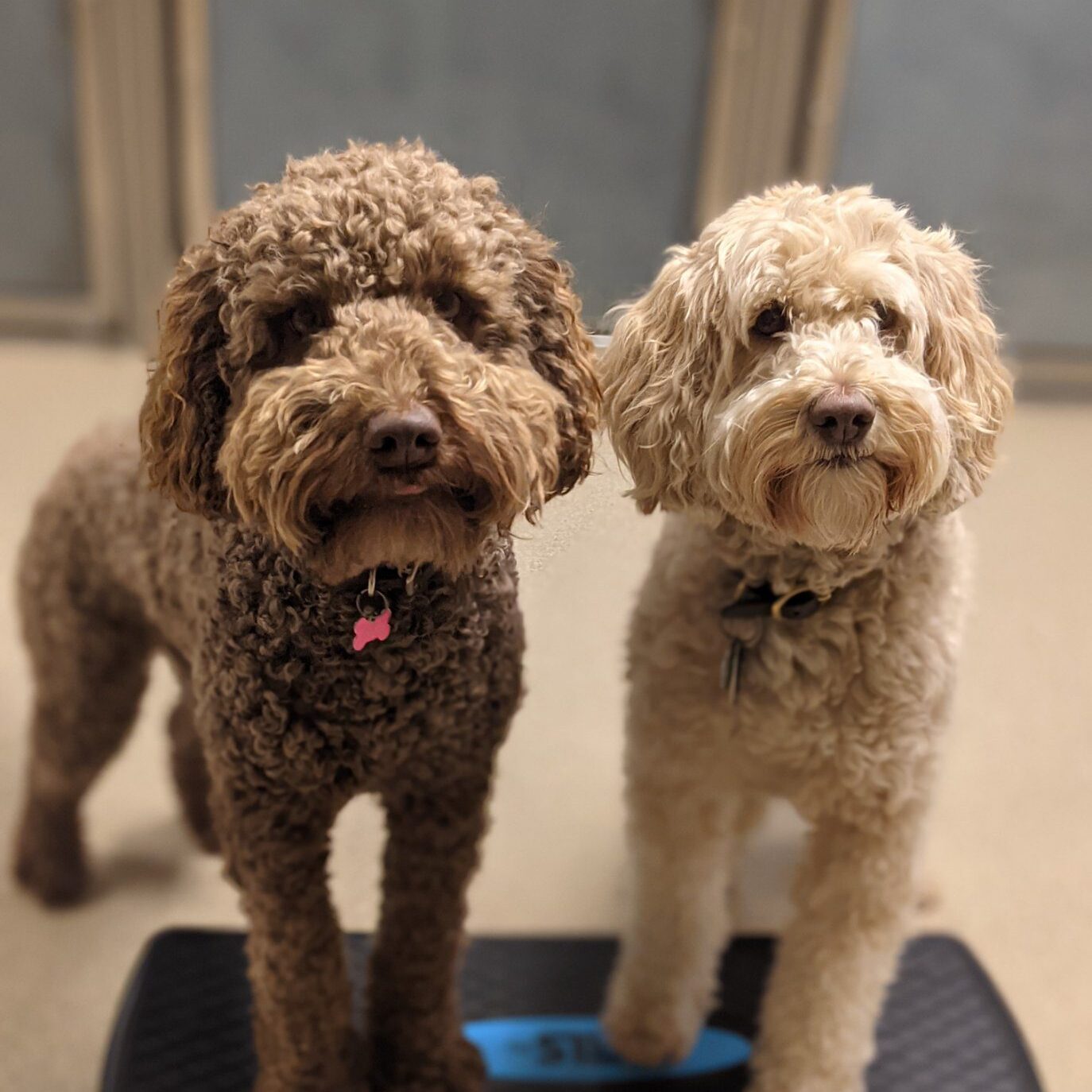 Canine enrichment means engaging your dog in activities designed to stimulate their mind, and to keep them physically fit at the same time.  Our staff incorporates a multitude of enrichment activities during your dogs stay including scent work & puzzle games.  This provides a lot of much needed mental stimulation to go along with all of the physical exercise.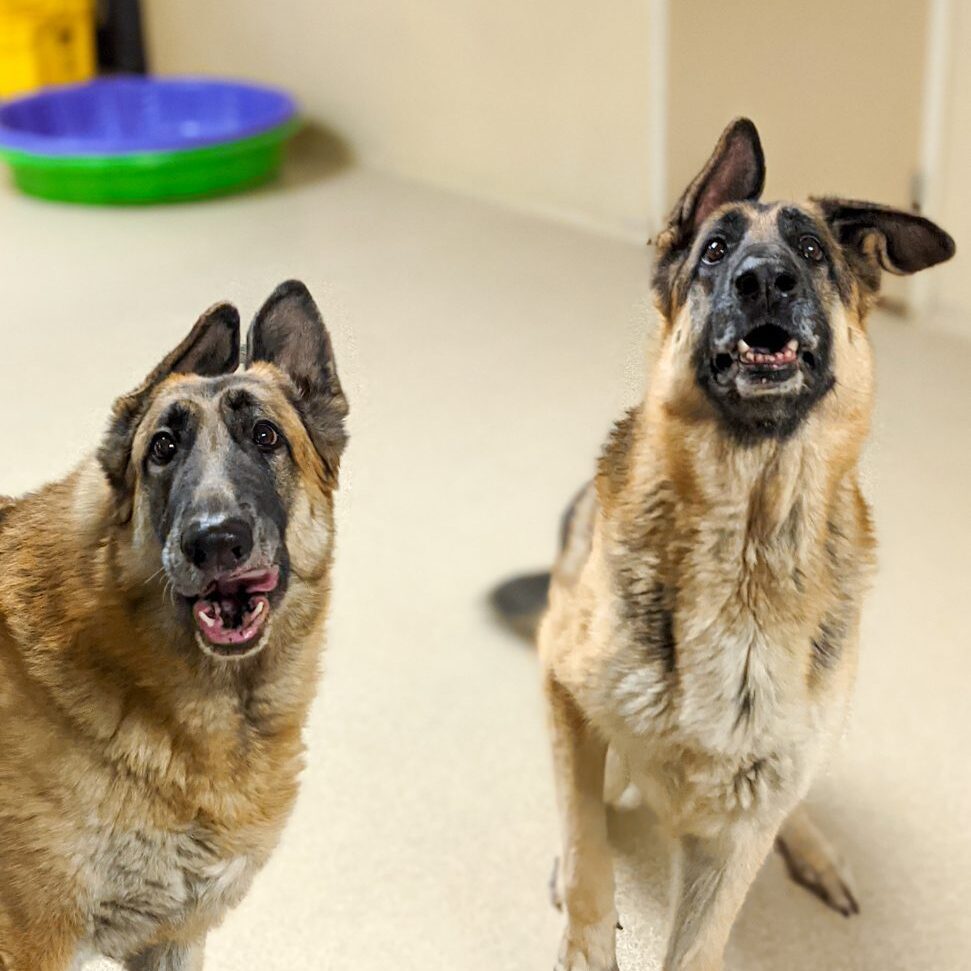 What does all of this mean?
We engage, and bond with your baby in the way they prefer whether that's running around with a group of dogs or cozying up with a human friend while solving a puzzle or learning a new skill.  Whether its Thanksgiving, Christmas, a summer vacation or just a random weekday, we work tirelessly to keep those tails wagging!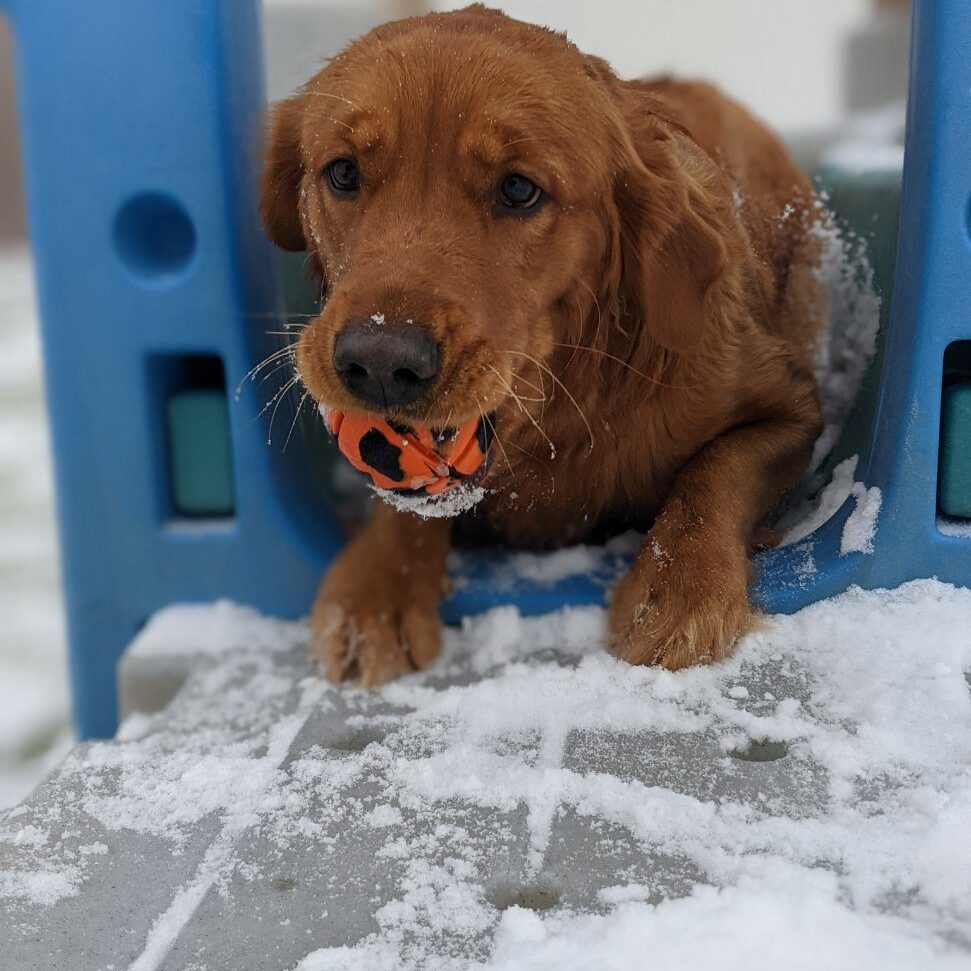 Monday–Friday: 
7:00 AM - 9:00 AM 
12:00 PM - 2:00 PM
 4:00 PM - 7:00 PM
Saturday
 9:00 AM–12:00 PM  
Sunday
CLOSED
*Our office is closed on all major holidays*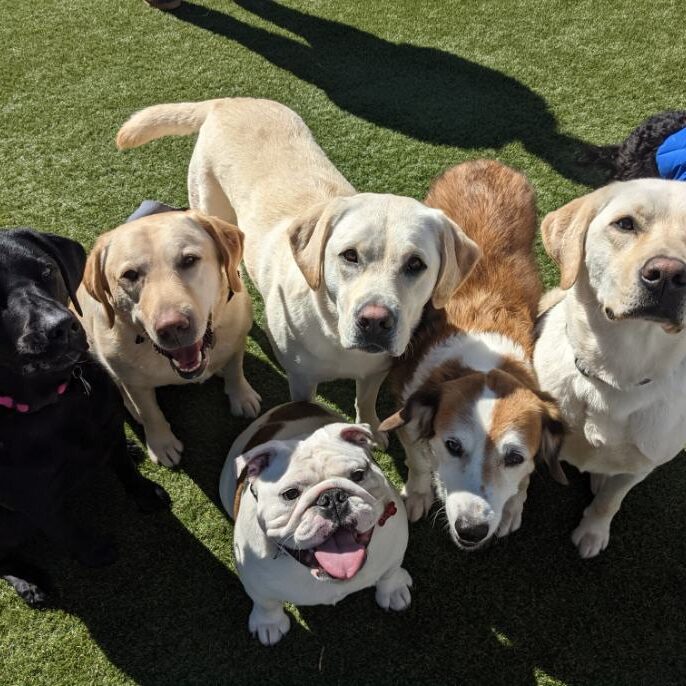 All dogs wishing to attend Bed & Bark must  show current proof of the following vaccines, tests & monthly preventatives:  
Rabies  
DHPP (Distemper, Hepatitis, Parvo, Parainfluenza)  
Leptospirosis  
Bordetella (kennel cough)  
Canine Influenza  
Negative fecal sample every 6 months  
Negative Heartworm/Tick Test  (1 year old & up)
Heartworm/Flea/Tick Preventative   
PLEASE CHECK YOUR PETS RECORDS TO ENSURE THEY ARE UP TO DATE PRIOR TO CHECK IN.  IDEALLY VACCINES SHOULD BE GIVEN AT LEAST 5 DAYS PRIOR TO CHECK IN TO ESNURE FULL IMMUNITY.  ANY PET THAT IS NOT UP TO DATE PRIOR TO CHECK IN MAY NOT ABLE ENTER OUR FACILITY, OR MAY BE SUBJECT TO AN $65 URGENT CARE EXAM TO UPDATE THE VACCINES.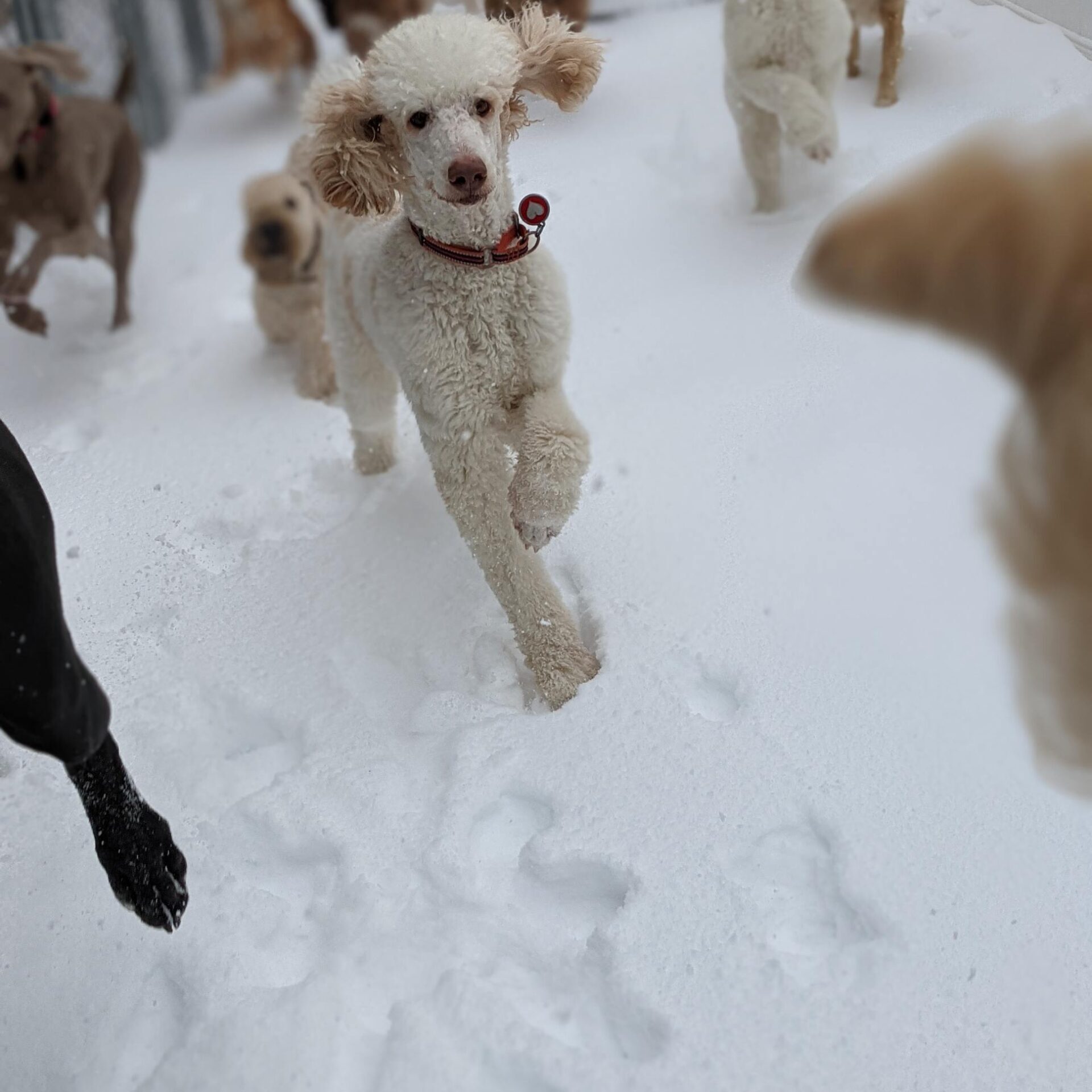 Veterinary supervised boarding and daycare  
Certified Professional Dog Trainers on staff (CPDT-KA)  
Bubbles & Bark grooming salon  
Spacious and secure indoor & outdoor play areas  
Synthetic turf designed specifically for dogs  
Discounts for multi-dog families  
Agility equipment, special games, and a variety of toys  
Climate-controlled boarding suites  
All Dogs wishing to attend daycare must first schedule a meet & greet with one of our trainers. 
FOLLOW BED & BARK ON SOCIAL MEDIA